Litter bin cut has saved £40,000: City of York Council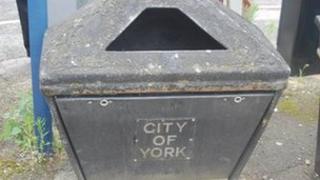 A decision to reduce the number of litter bins in York has saved £40,000, the city council claims.
The Labour-run authority announced the cut as part of savings identified in its 2012/13 budget.
The council says many of the 350 bins removed were under-used or were being used to dump commercial or household waste in.
Residents in parts of the city have complained bins were removed without warning or any consultation.
In Fulford, 12 out of 27 litter bins have been removed and the local Liberal Democrat councillor has started a petition calling for the council to think again.
Keith Aspden said: "It seems particularly thoughtless to remove bins from potentially high litter areas such as near local schools or near the shops on Main Street.
'Without warning'
"Several residents have already complained to me that they have noticed more litter than previously.
"There was no prior consultation with residents or with Fulford Parish Council and the bins were taken away without warning."
Sandy Fraser, Labour cabinet member for environmental services, said the decision had been a difficult one but the council was prioritising spending on social care and job promotion.
Mr Fraser said: "These bins are either under-used, which is wasting money in collections, used illegally for household or commercial waste, or are close to other bins.
"We will assess the impact of the removed bins to ensure it doesn't have a negative impact on our communities in terms of any increase in littering."