Harrogate switches to fortnightly refuse collections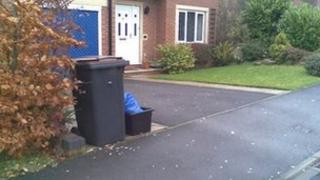 More than 16,000 homes in parts of North Yorkshire are switching to fortnightly refuse collections.
Harrogate Borough Council said the change aimed to encourage people to recycle more of their waste.
Waste such as plastic bottles and cards will now be able to be recycled while wheeled bins will replace plastic bags for waste that cannot be recycled.
Harrogate is the last local authority in North Yorkshire to move to fortnightly collections.
Rubbish that cannot be recycled will be collected every two weeks with recycling collected on the alternate week.
The first phase of homes to move to fortnightly collections begins this week while a further 46,000 homes will move to fortnightly collections by next summer.
A spokesman for the Conservative-run council said: "It is important that people are offered the chance to recycle more and to make it easier for them to do so.
"This is vital if we are to drive down landfill tax which is ultimately borne by the council-tax payer."
North Yorkshire County Council paid £9.1m in landfill tax for the amount of waste that had to be buried in 2011.