Ex-police officer's cancer lie sentencing adjourned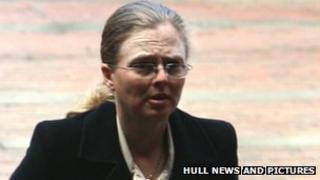 The sentencing of an ex-police officer who took time off work after lying about her daughter having cancer has been adjourned.
Rachel Hewitt, 39, of Ash Grove, South Elmsall, West Yorkshire, admitted fraud and misconduct in public office earlier this year at Hull Crown Court.
At a hearing last month Judge Simon Jack asked for Hewitt's character references to be investigated.
Adjourning the case until 30 July, he said he now believed they were genuine.
Hewitt was given unconditional bail.
Tumour claim
Speaking to Hewitt's barrister at last month's hearing, and referring to the references, Judge Jack said: "The picture they present is completely at odds with the offences your client has committed.
"Since your client is a convincing and practised liar, I find it difficult to take at face value."
The judge said if it transpired they were not genuine, a possible charge of attempting to pervert the course of justice could be brought.
At Friday's hearing the judge said police had since examined the references and they "were all genuine".
Hewitt's offences were committed between 1 January 2009 and 10 October 2011 when she was working for North Yorkshire Police.
She claimed she had to miss work because her daughter needed chemotherapy and an operation to remove a tumour.