York traffic wardens to strike over shift changes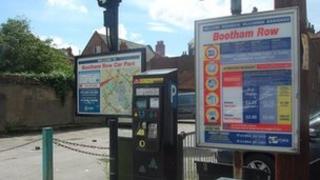 Traffic wardens in York are to go on strike from 9 July following an argument over shift changes, a trade union has confirmed.
The Labour-run council wants parking enforcement officers to work five day weeks instead of four days.
The council said the plan would save money and there would be no change in working hours for wardens.
Unison, which represents wardens said the change was unnecessary and disruptive.
The council has given no figures for how much the planned changes might reduce the costs of parking enforcement by.
Melanie Onn, regional organiser for Unison, said: "All our members have their lives set up for a four day rota. It is an enormous amount of disruption for something our members don't feel is necessary.
"Members are loathe to go out on strike but it does feel the authority is not prepared to back down over this move to a five day week."
Ms Onn said she did not believe the changes would make any significant financial savings for the authority.
Sally Burns, director of communities and neighbourhoods for the council, said: "We are extremely disappointed that Unison feel it is necessary to take this action and would like to stress that we still would want to work closely with them and the staff concerned to resolve this matter as swiftly as possible."
She added that car parks in the city would remain open and would still be monitored during the seven day strike.