Dog swept away in swollen beck at Bilton, Harrogate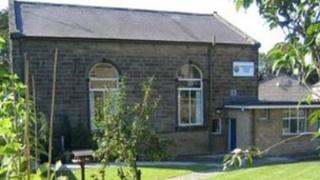 A dog was swept away by a swollen beck near Harrogate when his owner fell into the water.
The North Yorkshire Fire Service said the man had slipped into the beck at Bilton at around 21:00 BST on Saturday.
He suffered slight shock but the dog was swept away by flood water, officers said.
Elsewhere, heavy rain led to flash floods at Summerbridge, near Pateley Bridge, where the primary school was flooded with 4ft (1.2m) of water.
Crews from Ripon were sent to the beck at Bilton.
After establishing the man had managed to get out of the water, spotters were deployed upstream and downstream from the last sighting of the dog.
Officers said there has been no further sightings of the missing dog and the search had to be called off due to worsening light.
Fire crews were also called to eight incidents of flash flooding in Summerbridge, where pumps were used to clear water from the main street through the village.
Officers said they spent two hours pumping water out of Summerbridge Community Primary School.
Four flood warnings remained in force for the River Ouse in York, the Environment Agency said.