Jimmy Savile cycling challenge in Scarborough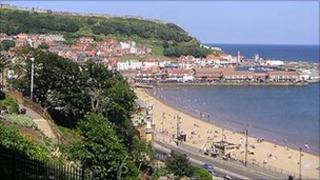 A cycling challenge dedicated to former DJ Sir Jimmy Savile has taken place from Scarborough.
Organiser of the town's Festival of Cycling, Martin Bolt, said he set up the 62-mile (102kms) route because of Sir Jimmy's previous career as a professional cyclist.
The festival, which is in its second year, runs in Scarborough until Sunday.
The route started in the seaside resort and went on to Dalby Forest and back.
All money raised from the event will be donated to charities which Sir Jimmy previously raised funds for, including the Little Sisters of the Poor.
The festival is also hosting a variety of cycling events for youths and experienced cyclists throughout the three days.
Sir Jimmy died at his home in Leeds last year, aged 84, was buried in Scarborough where he had a home for more than 40 years.