Yorkshire Regiment parade in York to mark Afghan return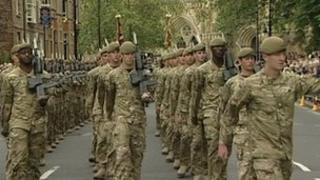 Soldiers from the 1st Battalion the Yorkshire Regiment have paraded through York to mark their homecoming from Afghanistan.
It was the latest in a series of parades around the region with marches already being held in Leeds, Bradford and East Yorkshire.
York mayor Keith Hyman said it was a celebration of their service.
Earlier this month the government announced the regiment's 2nd Battalion would be lost as part of defence cuts.
The Yorkshire Regiment currently consists of three full-time battalions.
The cuts mean the 2nd Battalion, formerly the Green Howards, will be absorbed into the rest of regiment in autumn 2013.
In March, five soldiers from 3 Battalion, the Yorkshire Regiment, were killed when a bomb exploded under their vehicle in Helmand province.