Alps avalanche: Upper Poppleton devastated by deaths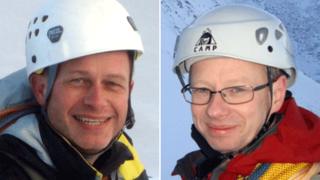 A village near York has been "devastated" by the deaths of two of its residents in an avalanche in the French Alps.
The men - two of nine killed on Thursday evening - were fathers of young children and had been raising funds for a local hospice, it has emerged.
Steve Barber, 47, and John Taylor, 48, lived in the same street in the village of Upper Poppleton, near York.
Mr Taylor's daughters Emma, 10, and Louise, eight, and Mr Barber's daughter Francesca, 10, attend Poppleton Ousebank School.
The men were killed as they traversed Mont Maudit, translated as Cursed Mountain, in the Mont Blanc range near Chamonix.
Mr Taylor's wife Karine and Mr Barber's long-term partner Donna Rogers have led tributes to the men.
Mrs Taylor said she was "truly devastated".
Rescuers praised
She said her husband, who moved to the Poppleton area from Manchester in 2003, took up mountaineering in 1998 and had climbed Mont Blanc twice before.
She added: "This event represents a significant loss to the UK climbing community."
Miss Rogers said her family were all "devastated" at the loss of Mr Barber.
She said he loved the outdoors, was a keen walker and always wanted to climb Mont Blanc.
Both women thanked members of the mountain rescue teams who tried to rescue their partners and family and friends who had been "so supportive".
Roger Payne, from west London, one of the UK's most respected climbers, was also killed.
Mr Barber and Mr Taylor were raising money for St Leonard's Hospice in York.
Janet Morley, the hospice's director of fundraising, said of Mr Barber: "As far as we are aware he had no direct link with the hospice, so we were very pleased to hear that he recognised the important part the hospice plays in York and the surrounding area.
"We were looking forward to the photographs he promised to bring back from this adventure to use on the hospice's website.
"We are devastated to hear of Steve's death and the deaths of John Barber and Roger Payne, as well as of the other victims. Our thoughts and prayers are with their families and friends today."
'Caring shoulder'
Parents of children at Poppleton Ousebank School were informed of the men's deaths in a letter from head teacher Estelle O'Hara.
She wrote: "Our thoughts and prayers go out to both Donna Rogers and Karine Taylor who have both lost their life-long partners.
"Children have been informed and school staff have been supporting them throughout the day, providing a caring shoulder and answering any questions that children may have.
"We would ask that people respect the families' privacy at this sad time. We understand that the climb was to raise money for St Leonard's Hospice and so we will be collecting on their behalf."
Councillor Ian Gillies, who represents Upper Poppleton on City of York Council, said: "Devastated doesn't cover it, really.
"I'm sure the people in the village and the wider community will provide the support the families need, not only now but for weeks to come."