Alps avalanche: Charity donations surge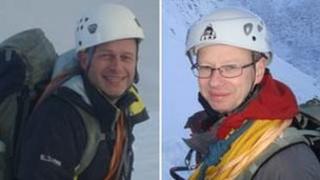 The deaths of two climbers who died in an avalanche in the French Alps has prompted a surge in charity donations.
John Taylor, 48, and Steve Barber, 47, from Upper Poppleton, west of York, were among nine people who died on Mont Maudit, near Chamonix, on Thursday.
The duo were attempting the reach the summit of Mont Blanc, raising money for St Leonard's Hospice.
Before the accident £300 had been raised via Mr Barber's charity page. That has now reached more than £3,500.
Mr Barber's 10-year-old daughter Francesca attends the same school as the two children of Mr Taylor, Emma, 10 and Louise, eight.
The school, Poppleton Ousebank, is also collecting donations for the chosen charity.
A spokesman for St Leonard's said staff and patients at the hospice were "moved by the donations".
"Many people who have no connection with Steve or John or the hospice are using the JustGiving page as a way of commemorating their lives.
"If anything at all good has come of this dreadful story, I think it's the fact that people are helping the hospice and helping people in York and the surrounding area who have life-threatening illnesses.
"We're always grateful for any support that we can get, even the very sad circumstances like this."
Climber and mountain guide Roger Payne, 55, - originally from London - was the third British person to be killed in the avalanche.
The three had been part of a 28-strong group traversing Mont Maudit before dawn.
A memorial service took place on Saturday in the ski resort of Chamonix, in tribute to all the victims.
During the ceremony at the church of St Michel, the names of those who died were read out and a candle lit for them.
Father Georges Vigliano, the parish priest said: "They left us too quickly, like a flame extinguished too soon by a violent gust of wind before it could give its full light."
According to the Prefecture de la Haute-Savoie, two people from Spain, three Germans and one Swiss were the others killed in the avalanche.