Exhibitors hit by cancellation of Yorkshire show will be refunded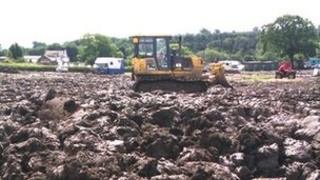 Exhibitors affected by the cancellation of the Great Yorkshire Show are to be refunded, organisers have said.
Bad weather saw the annual three-day show in Harrogate cut short at the end of the first day, Tuesday 10 July.
The Yorkshire Agricultural Society, which organises the event, said it would reimburse about 600 trade exhibitors at a cost of £700,000 as a gesture of "goodwill".
The society said its total loss due to the cancellation would be about £2m.
Nigel Pulling, chief executive of the Yorkshire Agricultural Society, said: "Our trade stands are an integral part of the show and we wanted to treat them fairly and reasonably.
"Under our terms and conditions they are not entitled to a refund, but as a goodwill gesture we wanted to reimburse their costs for the two days they should have been trading."
He accepted that traders would have faced additional financial losses but said the society had done all it could.
Heavy rain before the event had significantly reduced parking spaces at the showground.
Further rain on 10 July saw conditions worsen throughout the day.
It was the first time in 154 years that the show, one of the largest agricultural events in England, had been cancelled due to bad weather.
The event usually attracts more than 130,000 visitors over three days. Mr Pulling said that the society, a charity, was now faced with a significant financial loss.