Avalanche deaths inquest opened and adjourned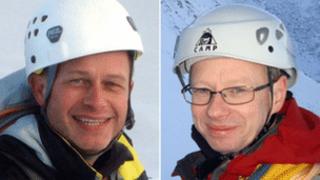 An inquest has been opened and adjourned into the deaths of two climbers killed in a French avalanche.
John Taylor, 48, and Steve Barber, 47, from Upper Poppleton, near York, were among nine people who died on Mont Maudit, near Chamonix, on 12 July.
A third Briton, Roger Payne, 55, originally from London, was also killed.
York coroner Donald Coverdale adjourned the inquest to allow funeral arrangements to be made.
Mr Barber and Mr Taylor, who lived on the same street, were both fathers of young children.
The men had been part of a 28-strong group traversing Mont Maudit before dawn in an attempt to reach the summit of Mont Blanc.
Mr Barber and Mr Taylor had been raising funds for St Leonard's Hospice in York.
A date for a full inquest into their deaths has not been set.