York's car-free zone reviewed by city council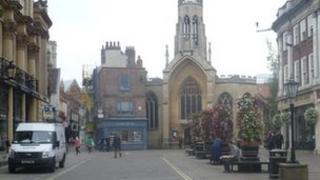 The future of York's pedestrianised area is to be reviewed by the city council 25 years after traffic was banned from parts of the city centre.
The City of York Council said the initial plan had been a "radical shift in emphasis" on how streets were used.
Now businesses and residents are being asked for their views on any alterations to the plan.
Councillors are considering boosting evening trade and increasing parking for disabled people within the zone.
In a statement, the council said that when pedestriansed areas - known as "foot streets" - were first introduced, the vision was to "create an area where pedestrians had the priority and freedom to use the whole of the highway by reducing the dominance of vehicles".
Boosting trade
A spokesman said: "This vision remains at the core of future plans and we are keen to move forward with practical ideas for changing times of operation and including additional streets.
"The city centre foot streets have been in place for around 25 years. In the late 1980s, the area was considered very large for a foot street zone in a city the size of York.
"The concept was quite a radical shift in emphasis on how the streets should be used.
"At the time, there was some resistance to the scheme because of concerns on how it might affect trading."
Now councillors want the views of traders and residents on a range of options for the future use of streets in the city centre.
These include increasing parking for the disabled, altering vehicle access restriction and boosting trade in the evening.