Rachel Hewitt jailed for cancer lies to police colleagues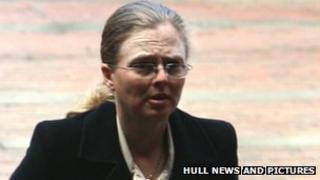 A police officer who took time off work after falsely claiming her daughter had cancer has been jailed for 18 months.
Rachel Hewitt, 39, of Ash Grove, South Elmsall, West Yorkshire, admitted fraud and misconduct in public office earlier this year at Hull Crown Court.
Hewitt claimed she had to miss shifts at North Yorkshire Police - where she no longer works - because her teenage daughter needed chemotherapy.
In fact, the court heard, her daughter was taking part in show-jumping events.
The offences relate to the period between 1 January 2009 and 10 October last year when Hewitt was a constable with North Yorkshire Police.
'Breach of trust'
The court was told the force gave her compassionate leave and special shifts, and colleagues organised whip-rounds to buy the family gifts.
Jailing Hewitt, Judge Simon Jack said she had shown an "extreme breach of trust" by telling the lie for about two years before her arrest last year.
Hewitt denied a further charge of fraud relating to a request for a career break to look after her daughter, who is now 15, with which the Crown Prosecution Service agreed it would not proceed.
The court heard the mother-of-two had also been granted time off from her role, for which she got a salary of up to £29,400, after claiming she had swine flu and other serious illness.
Prosecutor Simon Batiste said Hewitt took "considerable periods off from work" and was put on a four-day week after claiming her daughter had the life-threatening illness, and pretending she had also developed other conditions during her treatment.
"On May 1 2010, she indicated her daughter had been hospitalised with pneumonia and would undergo treatment on May 7," Mr Batiste said.
"In fact, her daughter was competing that very day at the Port Royal Showground."
Heidi Cotton, representing Hewitt, said the defendant accepted "deliberately fabricating evocative family problems", which was reflected in her plea.
Jailing Hewitt, the judge said: "Your actions have undermined the trust the police officers place in each other and they will no doubt undermine, to some extent at least, the trust members of the public place in the police.
"If a police officer has been seen to be telling a pack of lies, even if not directly to the public, that clearly undermines the faith the public have in the police.
"Nobody thought for a moment somebody would lie about something so serious, so emotive as the health of their child. That's why you got away with it for so long."