'Bright future' planned for deprived Eastfield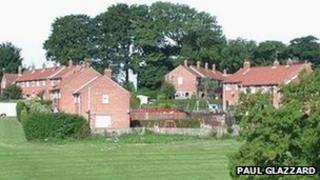 Plans have been revealed for a major revamp of one of North Yorkshire's most deprived areas.
Residents, councillors and public and private sector organisations have drawn up a "hugely ambitious" action plan for Eastfield, near Scarborough.
Over the next 12 years they want to improve housing, community facilities, education and transport links.
The ward has been in the top 10% of the UK's most deprived communities for more than a decade.
A project to build 1,350 new homes in the Eastfield area is already under way.
The scheme, named Middle Deepdale, is the largest residential development in North Yorkshire and will take up to 15 years to complete.
Funding will now be sought for elements of the action plan, which includes enhancing library services, expanding the children's centre, improving roads, shops and play areas and providing people with help to gain employment.
Some work has already taken place - including the transformation of The Dell, a public open space that attracted fly-tippers - into a nature reserve.
Brian Simpson, chairman of Eastfield Parish Council, said the plan marked "an important milestone" in the history of Eastfield.
He said the "aspirations and ideas contained within it, combined with the enthusiasm and commitment of our local residents and partner organisations, mean the future looks very bright".