Report 'backs' fight to retain Friarage Hospital services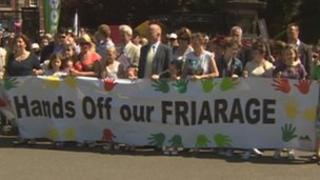 A council has undertaken research which it says "blows out of the water" NHS reasons given for transferring services from a North Yorkshire hospital.
Paediatric care at Northallerton's Friarage Hospital could be moved to James Cook University Hospital, 22 miles (35km) away, in Middlesbrough.
The leader of Richmondshire council said a survey showed similar sized hospitals were operating successfully.
Health chiefs in charge of any changes said the research would be reviewed.
The Friarage is a 230-bed hospital serving 122,000 people from the North Yorkshire moors to the central Pennines.
Recruitment 'no problem'
A report by the National Clinical Advisory Team (NCAT) said the paediatric unit was not sustainable.
It said the hospital provided a first-class service but in relation to paediatric services it expressed concerns about the hospital being able to maintain a workforce with the right skills.
It suggested moving paediatric care and scaling back maternity services.
The trust has said the hospital, one of the country's smallest district general hospitals, could struggle to recruit key members of staff over the next two years.
Richmondshire District Council, which is against the changes, commissioned a report examining 20 of the UK's smallest hospitals.
The hospitals, chosen because of their similarities to the Friarage, also operate around-the-clock consultant-led maternity and children's services.
Council leader John Blackie said: "It blew out of the water the argument we've been given by the NHS for transferring services from the Friarage to James Cook.
"We've been through the 20 smallest hospitals and overwhelmingly the majority who are operating the same number of births, or even a smaller number of births than the Friarage, are saying recruitment is not a problem."
Dr Vicky Pleydell, from Richmondshire and Whitby Clinical Commissioning Group, said the research would be reviewed and a formal consultation would take place if any major change was recommended.