Filey beach Blue Flag loss blamed on heavy rainfall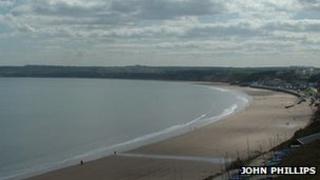 Heavy rainfall has been blamed for the loss of Blue Flag status at a North Yorkshire beach.
Filey beach was only awarded a Blue Flag, which recognises high quality bathing water, in May 2012.
Scarborough Borough Council said the water had failed to meet the standards required on three of 11 occasions between May and July.
Officials said extreme rainfall could have washed ground pollution into the water affecting the test results.
Brian Bennett, head of tourism and culture at the authority, said: "We recognise how important the prestigious award is to Filey and we are very disappointed that the beach has not been able to maintain it for the rest of 2012 especially as the news has come so early in the summer season."
Mr Bennett said he was confident the recent test results were a direct result of heavy rainfall during the early summer, which could have washed sewage and agricultural pollutants into the sea.
The Conservative-run council said the beach was still safe and clean to use.
It said it was also working with the Environment Agency, Yorkshire Water and the town council to investigate other potential influences on bathing water quality.
The Blue Flag scheme acts as a guarantee to tourists that a beach or marina they are visiting is clean and maintained to the highest standards.