Captain Cook Museum in Great Ayton receives £200,000 funding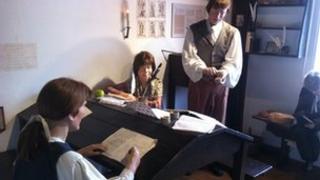 A museum in North Yorkshire dedicated to the explorer Captain Cook has received funding to complete a major refurbishment.
The Grade II listed building in Great Ayton has been given £200,000 by the Heritage Lottery Fund to complete a refit and install a new stairway.
The museum, which has been open since 1928, is where James Cook received his first and only schooling.
Trustee Dan O'Sullivan said the work would double the size of the museum.
It is hoped that the refurbishment will be completed through the winter and re-opened in the spring.
Research carried out by the town's history society on the local area will also feature in the museum next year.
Captain James Cook mapped the Pacific, New Zealand and Australia during the 18th century, radically changing western perceptions of world geography.