Hornsea Floral Hall campaigners submit business plan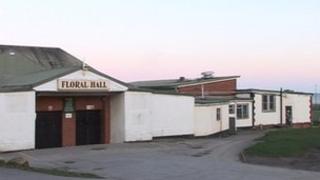 Campaigners trying to save a community hall in East Yorkshire have submitted a business plan in a bid to preserve it.
Residents were given a six-month reprieve in March to come up with a plan for the community to run Hornsea's Floral Hall.
The East Riding of Yorkshire Council had proposed demolishing the 99-year-old venue.
Officials at the council will examine the plans before making a final decision on its future.
The Conservative-led council had planned to replace the building with a car park, claiming it was in a "dilapidated state" and was running at a loss.
After a strong local campaign, the council's executive agreed to allow the community to develop a plan to run the building themselves.
Independent councillor, Barbara Jefferson, said: "This will be for the community and run by the community and we have worked exceptionally hard to develop a robust business plan."
The charitable company, formed to run the hall, said its first job would be to restore the building in order to celebrate its centenary in 2013.