Massacre suspect David Simpson's family feels 'helpless'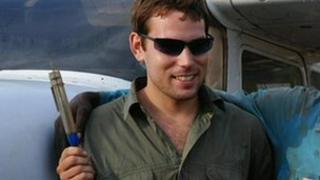 The uncle of a man who has been in jail in Africa since March has said the family feels "helpless".
David Simpson, from North Yorks, was working in the Central African Republic when he says he came across 18 bodies. He was jailed after reporting it.
Horson Simpson said the family remained worried and wanted him safely home as soon as possible.
The Foreign and Commonwealth Office (FCO) said it was doing all it could to secure Mr Simpson's release.
Horson Simpson said: "Everyone feels so helpless there is nothing we can do about it. I am sure politicians are doing all they can to help though."
'Swift conclusion'
His nephew was working for Swedish company Central African Wildlife Adventures, which takes clients game hunting, and had been looking for a water supply when he said he found the mutilated bodies in remote bushland.
He reported it to officials but was then detained on suspicion of murder.
Mr Simpson was briefly placed under house arrest, following riots at the jail he was being held in, but has been imprisoned again.
Horson Simpson said: "We are missing him a lot and the sooner this is all sorted out the happier all the family will be.
"Your hopes get built up one minute and then the next day nothing has happened. The sooner he is back the better."
The FCO said the Foreign Secretary William Hague had raised the issue with the Central African Republic's foreign minister, and had called for a swift conclusion to the case.