Barge testing Scarborough seabed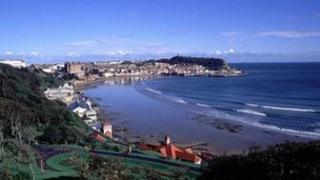 A barge has arrived in Scarborough to test the seabed and beach as part of efforts to improve water quality.
A machine on the 18m-long barge is collecting sediment and rock samples at the North Bay, along the route of two proposed storm overflow pipes.
Yorkshire Water said the beach would remain open while the work takes place. It is scheduled to end on 19 August.
The company is spending £110m to try to get blue flags for each of the region's eight coastal resorts.
The barge will move on to Scalby Ness once it leaves Scarborough.
Ben Shearer, project manager for Yorkshire Water, said: "This investigation work is an essential part of our overall improvements for Scarborough, since it will provide a technical understanding of the ground where two new coastal pipes will be built next year.
"The sample information will be used to help design the pipes so that they can be constructed in the best way possible and within the timescales required before new tighter bathing water standards come into force."