Carl Roe memorial plaques stolen from side of A169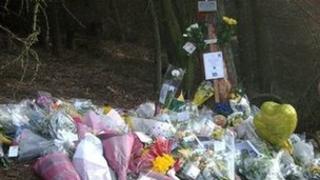 Thieves have stolen two plaques put up in memory of a man killed in a road traffic crash.
The metal plaques, one of them 2ft (0.6m) high, were placed beside the A169 at Saltersgate Bank on the North York Moors.
Carl Roe, 21, from Whitby, died after being involved in a collision on the road on 16 March.
North Yorkshire Police said the theft, which happened at the end of July, was "truly despicable".
One of the plaques had a photograph of Mr Roe and a poem attached.
'Cannot understand'
The other was oval and inscribed 'Carl Roe, 19 02 1991 to 16 03 2012, Gone but not forgotten'.
Alison Roe, Carl's mother, said: "The whole family is completely devastated by this horrible theft, coming so soon after the loss of Carl.
"We simply cannot understand how anyone could be this heartless."
PC Katie Shaw, from North Yorkshire Police, said: "The thieves who stole the plaques have committed a truly despicable crime.
"It is very obvious that the plaques will have been placed there only recently in memory of a much loved family member and their theft is an act of the most heartless callousness."