A19 hay lorry fire 'caused by thrown cigarette'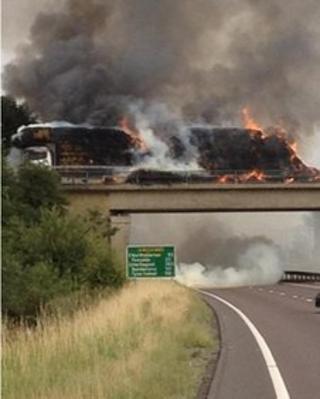 A discarded cigarette thrown from a passing car may have set fire to a load of hay, causing two major roads in North Yorkshire to be closed.
Fire officials said it was their "best bet" on the cause of the incident at Thirsk on Tuesday.
The wagon, loaded with 58 bales, caught fire on the A170 bridge over the A19.
The A19 was closed for several hours due to flaming debris falling on to the road below.
Peter Hudson, from North Yorkshire fire and Rescue, said: "At the moment we think [the fire started from] a discarded cigarette from a passing vehicle.
"We can't think of any other reason, because it started quite high up on the lorry."
At its height, four fire crews from Thirsk, Northallerton, Ripon and Richmond were involved in tackling the blaze.