York's National Railway Museum director resigns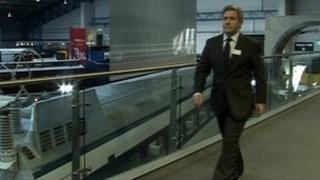 The director of the National Railway Museum in York has resigned.
Steve Davies, who became director in February 2010, will leave the museum in October to take up a position in the private sector.
Paul Kirkman, from the Department for Culture, Media and Sport, will join the staff in November as acting director.
The museum had a lower than predicted attendance to this year's Railfest event, which attracted just over half the anticipated 65,000 visitors.
The event was the "biggest ever gathering of rail record holders" according to the museum.
The collection was opened in 1975 and comprises more than 300 locomotives and memorabilia.
The museum said it attracts 700,000 visitors annually.