Lydia Bishop death: Two nursery staff arrested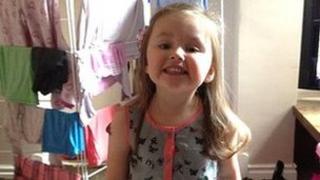 Two members of staff at a nursery in North Yorkshire where a three-year-old girl died have been arrested and questioned, police have confirmed.
Lydia Bishop died on 17 September after becoming entangled in a rope on a slide in a play area at York College nursery.
The two were interviewed as part of the ongoing inquiry into the circumstances surrounding Lydia's death, said North Yorkshire Police.
They were released on bail while investigations continued, said police.
The investigation was "still in its early stages", police added.
Last week, York College confirmed the nursery where the three-year-old died would not reopen until an investigation by police, Ofsted and the Health and Safety Executive was concluded.
That was not expected to happen before 5 November, the college said.