Ripon's £14.4m flood defence scheme completed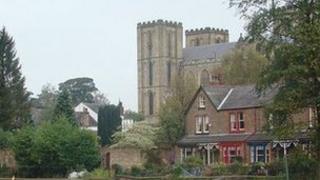 A £14m scheme to protect Ripon from flooding has been completed.
The scheme improves protection for 548 homes and 96 businesses, the Environment Agency said.
The defences include a flood water storage area, upstream of the city, which can hold up to 1.5 million cubic metres of water.
The rivers Skell, Ure and Laver all meet at Ripon and the most recent flood, in 2007, affected more than 40 properties.
The scheme was given approval in November 2006 but the Environment Agency did not have the funding available to begin work until 2010.
The Mayor of Ripon, Andrew Williams, said the defences had been tested after heavy rainfall in September.
"Clearly people were nervous until they saw that the scheme did actually work. People are reassured that it did the job and will do the job in the future," he added.
Water held in the reservoir, upstream of the city on the River Laver at Birkby Nab farm, will gradually drain away downstream.
It is designed to prevent river levels in the city from rising too quickly after heavy rainfall, the Environment Agency said.
Other work includes new flood walls and embankments in the city centre and the level of some sections of road at North Bridge has also been slightly raised.
The Environment Agency will formally hand over the scheme to the city in a ceremony on 19 October.