Wetherby biker gets ban after 139mph ride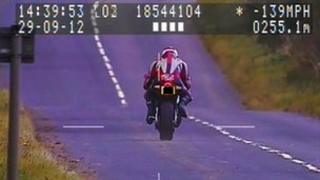 A biker has been banned from driving for six months after he was caught speeding at 139mph in North Yorkshire.
Steven Smith, 40, of Hallfield Crescent, Wetherby, was captured on the B1217 at Saxton near Tadcaster on 29 September by a mobile camera.
Smith pleaded guilty at Selby Magistrates' Court to exceeding the 60mph speed limit on his Aprillia.
North Yorkshire Police said the case was the second highest speed detected by the camera.
Smith was fined £415 with £45 costs and ordered to pay a £15 victim surcharge.
Insp Dave Brown, from North Yorkshire Police, said: "He should consider himself lucky to be able to attend court to face only a speeding charge and a big hole in his bank balance.
"The consequences of riding at such a speed could have been catastrophic for him and other road users."