William Hague 'not satisfied' with Friarage hospital plan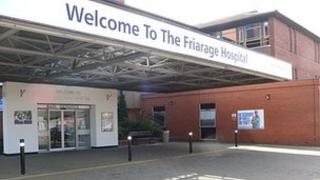 The government should decide on the future of children's and maternity services at a North Yorkshire hospital, according to William Hague MP.
The NHS plans to reduce services at the Friarage in Northallerton, claiming they are "unsustainable".
Mr Hague, MP for Richmond, said he had a "major problem" with a public consultation, due to begin in November.
Richmondshire District Council passed a motion on Tuesday urging the decision to be referred to the Health Secretary.
Independent councillor John Blackie, leader of Richmondshire District Council, said after the unanimous 32-0 vote that "10,000 people signed a petition, 4,000 people went on a march, 30 parish councils, two district councils and the local MP want the decision referred".
The decision whether to refer the plans is to be made at the North Yorkshire County Council Scrutiny of Health Committee in November.
The preferred option of NHS Hambleton, Richmondshire and Whitby Clinical Commissioning Group (CCG), is to replace overnight children's care with a day care assessment unit, and to have midwife-led maternity services instead of consultants.
It means pregnant women at risk of complications would have to travel to hospital in Middlesbrough, 22 miles (35km) north of Northallerton, to give birth.
The changes are being made after a national clinical advisory team report published in January said the Friarage's paediatric unit was unsustainable.
'Seriously bewildered'
William Hague said: "It's impossible to defend going that far and so services of this kind at a hospital of that kind are so important.
"It remains the case that in some other parts of the country with maternity units of a roughly similar size, ways have been found to keep them open.
"I think it's necessary to look at every possible alternative solution, so I'm not satisfied with the answers that have been reached on this."
Mr Hague said referring the decision to the Department of Health would mean it could be looked at "nationally and hopefully independently".
The option to keep services as they are has not been included in the public consultation, a decision that councillors who signed the district district council motion said left them "seriously bewildered".
The CCG said it would require £2.7m extra investment and the recruitment of more consultants.
Dr Vicky Pleydell, from the CCG, said: "It isn't simple, I wish it was... we're trying to find the best way forward.
"Consultants and specialists at the hospital and nationally... have told us that if we were to go for an option where we employed a large extra number of consultants it still would not be a safe and sustainable service because we wouldn't be able to attract the calibre of doctor we would all want to work at the Friarage."