Threat to sue over Allerton waste plant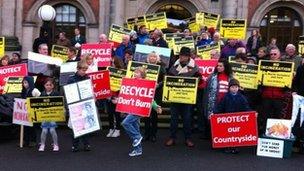 Residents who claim their homes have been devalued by plans for a waste incinerator say they will sue a council for compensation if it goes ahead.
Proposals for the plant at Allerton Park, near York, are being decided by North Yorkshire County Council.
One resident, Ray Allott, said estate agents now valued his home at about 40% less based on the incinerator plan.
David Bowe, from the council, said such claims would be considered but the plan was still at an early stage.
The City of York Council and North Yorkshire County Council have awarded a £900m contract to Amey Cespa to build and manage the plant.
The two authorities claim the scheme is a major part of their waste management plans.
Councillors in York have been consulted as part of the formal planning process but have been advised by planning officials to make no objection.
The application for the plant, which would be built using £65m of private finance initiative funding, is being decided by the county council's planning committee.
Mr Allott said since proposals for the plant became known, his property had gone down from £850,000 to between £400,00 and £450,000.
He said if the plant was given permission, he and other residents would take legal action.
He said: "We've had a few estate agents round and they gave us a valuation of what our houses might be worth if the incinerator proposal goes ahead and we're looking at a devaluation of about 40% on the property value.
"It is completely unacceptable that North Yorkshire County Council can land this on our doorstep and devalue our properties by such an amount."
He added: "We are going to get together and approach the county council for compensation for the loss of value to our properties."
Mr Bowe, the council's corporate director of business and environmental services, said there were many stages still to consider.
"If the project gets approval through planning, which it hasn't yet received, it may well then be called in by the secretary of state and following that the county council would actually go through its financial clause process where it would be considering the affordability of the project.
"Clearly the council would take any claims in to consideration but in truth the question would be whether there was any liability from the county council."
Related Internet Links
The BBC is not responsible for the content of external sites.