York Art Gallery £8m refurbishment to take two years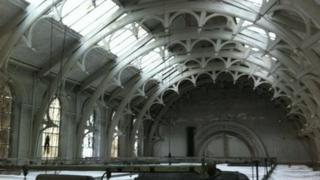 York Art Gallery is to close for more than two years for a multimillion-pound refurbishment.
The York Museums Trust, which runs the gallery, said the £7.6m plan will expand the display space by almost 60%.
Funding for the plans has come from a £2m private bequest, other donations and grants from the City of York Council and the Arts Council.
Work on the scheme will begin in January and the gallery is expected to reopen at Easter 2015.
Janet Barnes, chief executive of the York Museums Trust, said: "The whole process was really started off by a man from York who left us £2m. That private legacy gave us the confidence to move forward.
"If you have something on the table to offer it is much easier to approach other organisations for further funding."
'Fulfil potential'
The plans include opening up the unused roof space of the building currently hidden by a false ceiling installed in the 1950s.
The gallery will also expand into adjacent rooms used to house the city archives, which are being moved to the main city library, creating new exhibition spaces on the ground floor.
Ms Barnes said: "The ambition is to really fulfil the potential of the whole building and it will mean that York will be able to stand a bit stronger in the art gallery league.
"We will be able to attract major exhibitions that we don't at the moment because we lack the space."
The trust said some artworks will be loaned to other gallery's across the UK during the refurbishment. It is also planning a Yorkshire-wide touring exhibition.