Porsche crash victim Ashley Murray's death 'ironic'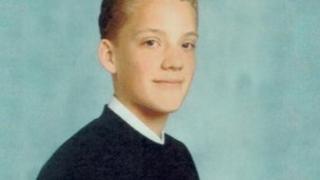 The death of a man in a car crash more than a decade after he survived a brutal knife attack was "tragically ironic", an inquest has heard.
Ashley Murray, from Harrogate, North Yorkshire, died when he lost control of his Porsche and hit a tree in July.
The inquest at Harrogate Magistrates' Court heard the 27-year-old was more than twice the drink-drive limit.
In 1999, aged 13, Mr Murray was stabbed by two school friends after they had both watched the horror film, Scream.
He was taken to the Birk Crag nature reserve in Harrogate by the boys, then aged 14 and 15.
Mr Murray was stabbed 18 times with a knife and screwdriver and found wrapped in a bin bag by a dog walker 40 hours later. He recovered after spending nine months in hospital but remained paralysed on one side.
The teenagers were ordered to be detained for six years after being convicted of attempted murder, but were released after serving half the sentence.
'Sad death'
The inquest heard on Tuesday that Mr Murray, from West Park, was believed to have drunk about 10 pints of lager during the afternoon of 14 July before driving to a party in a nearby village.
He had more to drink at the party and drove back home at about 22:00 BST, where he left his car and went to a bar in Harrogate.
A short time later, Mr Murray got back into his Porsche Boxter and drove towards Leeds on the A61.
He was alone in the car when he crashed overtaking another vehicle on the A61 at Almsford Bank.
The driver of the car Mr Murray overtook told the hearing how he missed her car by an inch before his vehicle struck a kerb, mounted a grass verge and hit a tree before landing on its roof.
He died at the scene, the inquest heard.
Mr Murray was found to be nearly two-and-half times the legal drink-drive limit, with a blood alcohol reading of 193mg per 100ml of blood. The legal limit is 80mg.
Coroner Rob Turnbull recorded a verdict of accidental death.
Traffic Constable Graham McCulloch, of North Yorkshire Police, described Mr Murray's death as "sad".
He told the inquest: "I recalled what happened to Ashley in 1999.
"It seems tragically ironic that, following such an incident and his recovery, he should lose his life in such a manner."