Leyburn auction sees rare Chinese vase sold for £2.6m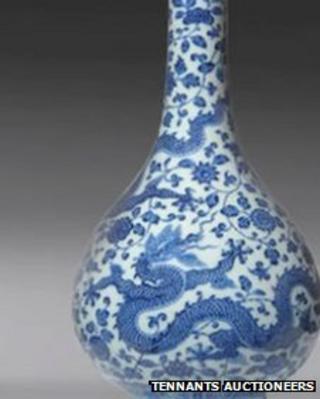 A Chinese vase found by an auctioneer on a "routine visit" has sold at auction in North Yorkshire for £2.6m.
The auctioneers said the vase, marked as from 1722 to 1736 and decorated with five-clawed dragons, was "exquisite".
Leyburn auctioneer Rodney Tennant said once the vase was accepted to be of the "mark and period" his expectations "went up and up".
The design on the vase was also copied into the 19th Century when such a vase could make just £30,000.
Mr Tennant said once buyers had satisfied themselves that the vase actually was 18th Century there was "huge international interest".
The saleroom included about 30 potential buyers from China, and one person had flown in from Australia, he added.
The vase was owned by a North Yorkshire family and was part of a deceased's estate. It was found by Mr Tennant "among a whole pile of blue and white pottery".
The buyer of the vase is unknown.