Thalidomide victims memorial unveiled in Harrogate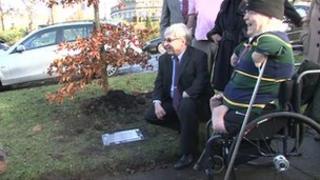 The UK's first memorial to people affected by the drug thalidomide has been dedicated in Harrogate.
The memorial, a 16ft (4.8m) high copper beech tree and plaque, commemorates babies born with a range of disabilities caused by the drug.
Thalidomide was prescribed to pregnant women in the 1950s as a cure for morning sickness but withdrawn in 1961.
The memorial has been paid for by Harrogate businessman, Guy Tweedy, a thalidomide survivor.
Mr Tweedy, who has shortened arms and fused fingers, said: "It killed thousands of babies in the womb and in their first years of life.
"It left thousands more with terrible deformities and affected the lives of thousands of families around the world."
By the time the drug was pulled from the market more than 10,000 babies worldwide had been born with a range of disabilities attributed to the drug.
These included shortened limbs, blindness, deafness, heart problems and brain damage.
The charity supporting British survivors, Thalidomide UK, said it was estimated that for every thalidomide baby that lived there were 10 that died.
Mr Tweedy said survivors from across the country attended the unveiling of the memorial at Montpellier Hill, Harrogate.
"The tree is a living tribute to all those affected by the thalidomide drug," he said.