Brawby floodwater pumping work starts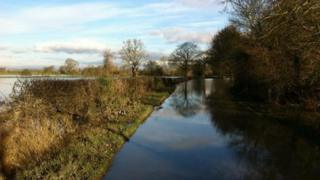 Pumping work has started on roads in a North Yorkshire village which has been virtually cut off by contaminated floodwater.
Three roads into Brawby have only been accessible by 4x4 vehicles for days after they flooded and drains backed up, leaving sewage in the street.
Emergency teams have started pumping the water away.
Insp Andy Everitt, of North Yorkshire Police, said: "Fortunately there's not too many houses in danger."
He added: "However I'm very concerned residents are cut off and that's unacceptable."
At Malton, the level of the River Derwent has fallen slightly but pumping is set to continue there over the weekend to protect homes and businesses.
Malton, Old Malton and Norton are defended from the river but surface water and backed-up drains have flooded several properties in the area.
A command base at Malton police station is co-ordinating flood relief operations in the area.