Whitby swing bridge upgrade delayed by weather conditions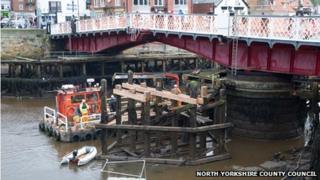 Repairs to a 103-year old swing bridge in North Yorkshire have been "severely hampered" because of recent weather conditions, the county council said.
A £250,000 upgrade to the bridge in Whitby began in September.
County councillor Joe Plant said: "We need to do the job properly, as this is such an important landmark for the town and we cannot rush to complete the job when the weather is against us."
The upgrade is part of a £4m project to improve the town's transport network.
Work to update the bridge's computerised technology has already been completed, which means faults can be precisely located to speed up repairs.
But the council said repairs to the dolphins protecting the east and west piers of the bridge would now be finished in January, and the underside of the bridge would be repainted in March, "when the threat of icy weather has receded".