North Yorkshire County Council consultation on cuts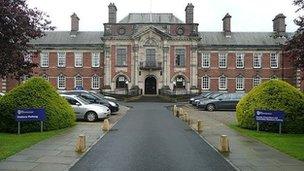 Residents are to be asked their views on how a council can make further savings over the next two years.
In 2010, North Yorkshire County Council began a four-year plan to cut £69m from its budget as a result of cuts in government grants and rising costs.
The authority said further cuts and a council tax freeze would mean an additional £24m of savings.
Councillors and officials are to host a series of meetings throughout the rest of December and in January.
The Conservative-run authority said it had already cut more than £30m through reducing administration, management levels and back-office costs.
It has cut almost 1,000 staff posts, about 8% of the council's workforce, and made further savings by implementing a pay freeze for staff.
Changes have also been made to the county's adult social care services, school transport, libraries, outdoor education and youth and music services.
Council leader John Weighell said: "The council has done all it can to protect frontline services and we will continue to do everything within our power to implement these savings with the least adverse impact on the people of North Yorkshire, but it is inevitable that the quality of service we offer will suffer."
Mr Weighell said the authority wanted residents to tell them which services they valued the most before it decides where to make the further savings.
Related Internet Links
The BBC is not responsible for the content of external sites.