Scarborough Bavarian Christmas fair divides traders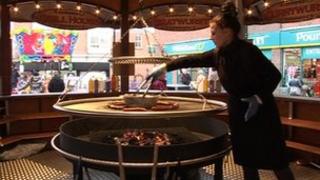 The introduction of a Christmas fair designed to boost trade in Scarborough town centre has split traders in the North Yorkshire seaside town.
The Bavarian fair, the first one to be held in the town, has 10 stalls offering food and fairground rides.
Ian Hutchinson, a butcher in the market hall, said: "I have seen a decrease of people coming down to the market."
But Nick Taylor, investment manager for the council, said footfall in the town centre was 15% up on last year.
Mr Hutchinson, who works in the market at St Helen's Square added: "Holding markets in the middle of town is driving trade from the bottom end."
David Rose, another market trader, said: "We're just not seeing the benefit [of the fair], all the major retailers are benefiting, the small businesses are losing out."
Sense of atmosphere
Mr Taylor, who works for Scarborough Borough Council, said the first two weeks of the Bavarian fair in Westborough had seen 28,000 people in the town centre.
"The fair gave a sense of atmosphere in town and made it much more conducive to Christmas," he added.
Mr Taylor said the town "punched above its weight" in the quality of its shops and at 10%, had a lower level of vacant properties than the national average.
Not all the market traders have seen a fall in trade.
Shaun Holmes, who opened a delicatessen in the market two years ago, said his business had seen record takings last Saturday and the Bavarian fair had not had any adverse effect on the business.