Pensioner Gordon Wilson trapped neighbour's cats in cage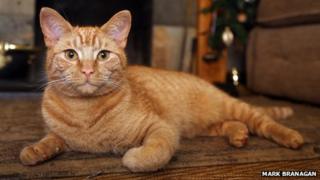 A pensioner captured his neighbour's cats using a cage baited with tuna before releasing them onto a farm, to keep his garden "pristine".
Gordon Wilson, 74, of Outgaits Lane, Hunmanby, North Yorkshire, was fined £250 at Scarborough Magistrates' Court after admitting taking four cats.
The Wilcockson family lost their pets Pumpkin, Morris and Pansy in April.
When a fourth, Pip, vanished in October Sean Wilcockson found him trapped in a cage in Wilson's front garden.
Mr Wilcockson said he heard the animal's cries: "I wandered around the road looking for him. It was one o'clock in the morning by then.
"I just went into the garden and saw he was sitting in a cage at the side of the bush.
"I realised it was a trap immediately."
The court heard it was made out of chicken wire, and as the cat entered a peg was dislodged, sealing the cage with a plastic flap.
Two of the cats, Morris and Pansy, have never been found.
Pumpkin made his way back home after he disappeared in April, but died two weeks later when he was hit by a car.
At Scarborough Magistrates' Court on 19 December Wilson admitted an offence under the Animal Welfare Act 2006 of abandoning a cat and making no provision for its needs, and two counts of theft.
Speaking after the hearing, Wilson said: "It's not something I'm proud of."
'Animal cruelty'
Mr Wilcockson's wife Joanne has lived two houses away from Wilson all her life.
She said: "He has a really beautiful garden and the reason he gave police was he likes his garden pristine and did not want to put his hand in the soil and find cat pooh.
"If we had known there was a problem we would have bought him some cat repellent pellets to put down."
Mrs Wilcockson added: "He came around to the house to apologise to the whole family.
"He said he was very sorry for what he had done and would never have done it if he had known the hurt he was causing."
PC Graham Bilton of North Yorkshire Police said: "The trap in itself did not injure the animals.
"However, the subsequent act by the defendant of removing the cats and dumping them away from their home without any regard for their welfare is in itself animal cruelty."