Rochdale officers pay respects to PC Andrew Bramma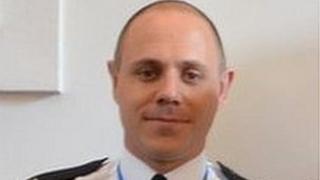 Former colleagues of a police officer who died in a road crash in North Yorkshire have visited the scene of the accident.
PC Andrew Bramma, 32, was killed while on duty when his patrol van struck a tree in the village of West Tanfield, near Ripon, on Saturday.
He had recently transferred to the North Yorkshire force from Greater Manchester Police (GMP).
About a dozen of his former Rochdale colleagues left tributes by the tree.
Among the items left was a police helmet and one of PC Bramma's epaulets featuring his police number.
'True Yorkshire man'
Traffic officers closed a stretch of the road near West Tanfield for the informal ceremony to take place.
PC Bramma joined GMP in 2008, and worked as a response officer for the Rochdale division until August last year, when he transferred to North Yorkshire.
In a statement, his former Rochdale colleagues said: "Andrew was a great police officer and a loving family man.
"For anyone who knew him, Andrew was meticulous in everything he did, nothing would ever beat him and he would leave no stone unturned to find his answers.
"Andrew leaves us all with many lasting memories - from being such a great friend, to the large amount of hand gel and protective blue gloves he used to go through at work that we teased him about, to being a very proud and true Yorkshire man."
"Our thoughts are with his wife, two lovely sons and other family and friends at this time."