Copmanthorpe wind turbine plan is 'suspended'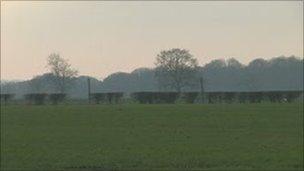 Plans for a new wind farm near York have been suspended, the company behind the proposals has confirmed.
Banks Renewables had planned to build five turbines, measuring 145m (475ft), at Hagg Wood, near Copmanthorpe.
Residents had expressed concern about the impact on the landscape and a planning application for a test mast was turned down in 2011.
The company said it had suspended its plans due to "uncertainty about the local planning regime".
Banks said it had been reviewing options to take the project forward since its initial planning application had been refused by the City of York Council.
Phil Dyke, development director at Banks Renewables, said they still believed "Hagg Wood would be a well thought-out and sensibly-sited scheme".
that would have the potential to both make a major contribution to low carbon energy generation in North Yorkshire, and to also bring a range of valuable economic, employment, environmental and community benefits to the local area."
Mr Dyke said that because the company could not be sure what York's future planning policy for renewable energy schemes would be it would be impractical to take the Hagg Wood scheme forward.
The Copmanthorpe Wind Farm Action Group, formed to oppose the scheme, said its members had welcomed the decision.
Related Internet Links
The BBC is not responsible for the content of external sites.