Whitby's 'Dracula' church landslip attracts world's media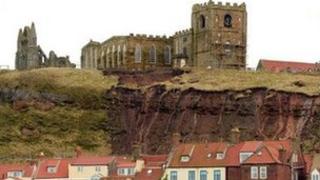 The vicar of the Whitby church which features in Bram Stoker's Dracula says a landslide which exposed human bones has attracted the international media.
St Mary's Church made headlines last month when human bones fell down the cliffside after heavy rain washed away part of the graveyard.
The church, built 900 years ago, stands atop the town's East Cliff.
Canon David Smith said he had been contacted by journalists from Germany and Switzerland about the story.
"We've had, I think, six television companies wanting interviews," he said.
"One from German television and one from Swiss television, I think basically because of this thing about it being Dracula's churchyard.
"But certainly Dracula is not buried in my churchyard."
The landslide has been blamed on a broken drainage pipe which has become damaged and fallen away.
After heavy rainfall the soil became saturated, leading to more of the cliff falling away.
Canon Smith said despite the landfall in the graveyard the church itself was under no danger.
"Whoever built the church 900 years ago actually found the right spot to build it on, because it's built on rock."
Church officials said the bones from the graves have been collected and will be reinterred.