Jobs to go as city of York council budget agreed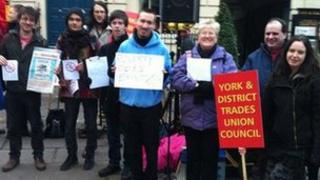 More than 200 jobs are to go at the City of York Council after the council's budget cutting £20m over the next two years was passed.
The Labour-run authority also agreed a council tax rise of 1.9%.
Council leader James Alexander said the budget would still protect the most vulnerable people in the city.
Unison, the public sector union, said given the amount to be saved job cuts were unsurprising but it was working to minimise compulsory redundancies.
'Bleak future'
Mr Alexander said the council would have had to cut more than £62m by 2015 which represents a third of the authority's total annual budget.
"There are some very tough decisions in there that we wouldn't normally want to make but the scale of government cuts we are having to deal with mean some of these decision are required to have a secure future for the city," he said.
He added the 242 job cuts would mean the authority could deliver schemes for disabled and elderly people and make improvements to the council's housing stock.
Heather Mackenzie, York branch secretary with Unison, said negotiations over job losses were continuing.
"The future is bleak with more cuts heading our way and there is no flesh left to get rid of. Councils are facing decisions they never thought they would have had to face," she said.
Opposition groups said Labour's budget would hit hard-working families and struggling businesses in the city.
Chris Steward, conservative councillor, said: "We have missed out on hundreds of thousands of pounds of government funding by not freezing the council tax and heaped further pain on the long-suffering people of York."
The council also voted to raise parking charges, cut funding for street cleaning and lighting and leave the city's parks unlocked and unattended overnight.