Yorkshire Show organisers 'to weatherproof' show'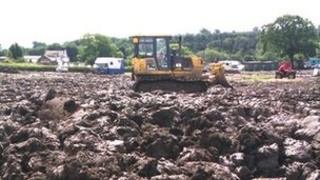 Organisers of the Great Yorkshire Show are to spend £500,000 to make the event as "weatherproof" as possible.
Last year the three-day show in Harrogate was cancelled after the first day because the ground was waterlogged following heavy rainfall.
The Yorkshire Agricultural Society, which runs the event, said it was installing new roads and drainage systems.
Last July's cancellation cost the society about £2m.
Reimbursing about 600 trade exhibitors alone cost the organisation £700,000.
Nigel Pulling, chief executive of the Yorkshire Agricultural Society, said: "We never want to be in that situation again, it was heartbreaking to have to cancel the show.
"We obviously can't control the weather but we will be doing our level best to make the show as 'weatherproof' as we can."
Last year was the first time in 154 years the show, one of the largest agricultural events in England attracting about 130,000 visitors, had been cancelled because of bad weather.