York City Knights' coach offer to rugby fans after defeat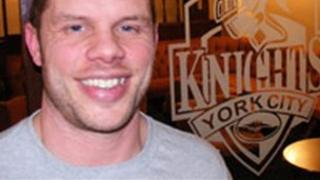 A rugby league team are dipping into their own pockets to apologise to fans who witnessed them being beaten 34-0 at the weekend.
York City Knights said their performance against Keighley Cougars on Sunday was "utterly woeful".
To make amends, the team are footing the bill for the supporters' coach for next Sunday's Kingstone Press Championship game at Doncaster.
The offer was suggested to players by fan Simon Hall via Twitter.
Player Simon Brown said: "We think it's a great idea. After last week's performance the supporters deserve an apology, so the lads will be happy to all chip in to get the fans to Doncaster."
Assistant Coach Mick Ramsden said: "It's a great response from the lads. We had a lot of disappointed players in the dressing room last week and rightly so, but we have a great chance to put right a lot of wrongs at Doncaster and it will be great to have as many fans as possible there cheering them on."