Whitby's engine shed to become gallery and cafe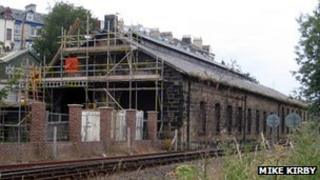 A £500,000 project to convert Whitby's engine shed into a gallery and cafe has been given the green light.
Work on the the 166-year-old, Grade II-listed building beside Whitby Station is due to start this summer.
The engine shed will house an exhibition space, 80-seat restaurant and conference facilities.
A 10ft (3m) high platform - dubbed the the 'Whitby Plinth' by developers - will be erected outside.
Owner Terry Hodgkinson said he hoped the gallery would become an "inspirational venue for artists and sculptors and the public in Whitby".
Scarborough Borough Council gave the project planning permission last week and Mr Hodgkinson, the former chairman of Forward Yorkshire, said he expected work to be completed by next spring.
He said it was hoped the opening would coincide with North Yorkshire Moors Railway's £1.4m development of a second platform at Whitby Station.
London inspiration
Mr Hodgkinson said: "It will be one of the biggest galleries in North Yorkshire, if not the biggest."
Inspiration for the plinth came from the Fourth Plinth in Trafalgar Square, London.
The supporting column will be painted like a stick of rock so visitors would know they have "reached the seaside", said Mr Hodgkinson.
Several attempts to develop the engine shed in Windsor Terrace in the past have failed, including the Cook's World Heritage Centre in 2002.
Carol Bruce, council planning officer, said: "The refurbishment and re-use of this building is of particular importance bearing in mind its location adjacent to the railway line.
"The economy of Whitby relies heavily on attracting tourists and the town has to be perceived as an attractive and pleasant destination."