Scarborough Castle use police dogs to deter vandals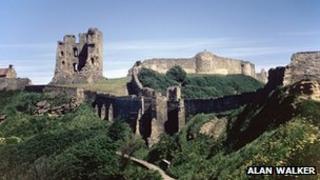 Police dogs are being allowed to exercise in the grounds of Scarborough Castle in order to deter vandals.
The new arrangement between North Yorkshire Police and English Heritage comes after two men were convicted of causing extensive damage to the site last month.
English Heritage has welcomed the presence of police dogs.
Police said there had been a number of cases of antisocial behaviour at the castle.
These included youths climbing the castle walls, throwing stones and even dropping rocks from the cliff top onto cars passing below.
Clea Warner, English Heritage area manager for Yorkshire, said: "There's been some form of defence at Scarborough for more than 3,000 years and the castle has stood proud for centuries."
A similar arrangement is in place at Pickering Castle.