Flooded homeowners to 'not pay council tax'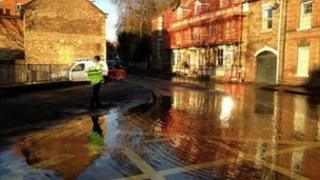 Flood victims in a part of North Yorkshire may not have to pay any council tax if they are forced to leave their homes under a new scheme.
Householders in Richmondshire would be exempt from paying council tax during the period they are out of their homes for up to a maximum of 12 months.
Council tax for an average Band D property in the area is £1,521.63.
Richmondshire District Council said it was the first time such a scheme had been considered by the authority.
About 30 properties were flooded last year, the authority said.
'Serious problem'
Charles Tucker, chairman of the National Flood Forum, said: "It's fair that they should do so because flooding is such an extremely traumatic event. People who are flooded never fully recover the costs of restoring their home, so help from the council is very welcome.
"Flooding's not going to go away. It's going to get more and more intense and affect more and more people."
Deputy leader of Richmondshire District Council Mick Griffiths said: "[The scheme] recognises the hardship many residents have experienced over the last 12 months during the severe weather conditions.
"We are offering a helping hand when it's needed most and addressing a serious problem in the district.
"It will be piloted for 12 months and then reconsidered by members."
The scheme has been approved in principle by councillors and is expected to be put forward to the full council for final approval next month.
If approved, claims made by homeowners could be backdated to 1 April 2013, the authority said.