Harrogate school considers birthday sweets ban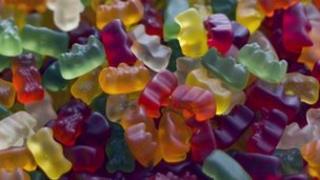 A primary school is considering banning children from taking sweets to school on birthdays.
Harrogate's Rossett Acre Primary School said it had received complaints from some parents about children bringing in the treats for classmates.
It has written to parents to outline the concerns raised and ask them whether they would prefer to pay for a new library book instead of the sweets.
Parent Helen Nash said the idea of ending the tradition was "staggering".
She said: "The look of disappointment on my son's face when I mentioned it really said it all.
"I think the library is pretty well stocked to be fair."
'Biggest response'
North Yorkshire County Council said the school had a long tradition of children celebrating their birthdays by sharing out sweets at the end of the day but some parents had suggested that they should give money to buy something for the school instead.
A council spokesman said: "The school leadership felt that if parents really did want to go down that line then buying a book for the school library might be one way forward.
"However, head teacher Corrine Penhale decided to consult all parents on the matter and sent out a letter giving parents the choice of carrying on the sweet tradition or paying for a library book or some other items for the school."
Mrs Penhale said: "I've had the biggest response I've ever had when consulting on school issues.
"We will look at all the responses and if most parents want to carry on the birthday sweets treat the school leaders and teachers would be more than happy with that."