North Yorkshire hospital unit to reopen at weekends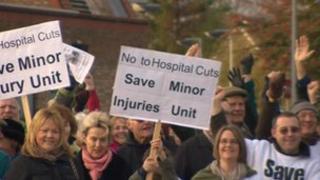 The minor injuries unit (MIU) at Malton hospital, North Yorkshire, is to reopen at weekends but will remain closed in the evenings.
In December, opening hours at the unit were reduced to weekdays, 9am to 5pm, to save money.
A campaign was launched against the closure, with more than 10,000 people signing a petition.
Scarborough and Ryedale Clinical Commissioning Group said it was still discussing how the unit would operate.
Simon Cox from the clinical commissioning group (CCG) said he hoped that the unit would reopen at weekends at the "earliest possible opportunity."
He said it was still to be decided whether the unit would be led by nurses or GPs.
Mr Cox said: "Essentially, its really operationally around the staffing rotas and the availability of staff to man the unit and just confirming what type of model we are looking for the MIU to run."
The decision to close at weekends was made by the county's primary care trust (PCT) as it tried to reduce an expected deficit of £12m by the end of the financial year.
Following the abolition of the PCT earlier this month the CCG, which took over health services for the area, reviewed the impact of the reduced hours.