York hospital chief warns of NHS 'crisis' over debts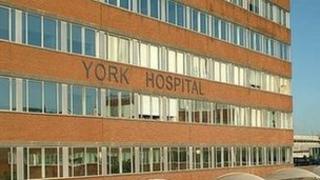 Healthcare in North Yorkshire is on the "brink of a crisis", a hospital chief executive has warned.
Patrick Crowley, from York Hospital, said debt levels meant less money for hospitals, making it difficult to deliver "safe and effective care".
Almost £12m of debt passed to the county's Clinical Commissioning Groups (CCGs) when they took control of NHS spending in April.
The CCGs said managing the debt remained an "enormous challenge".
Mr Crowley gave the warning at a meeting of City of York Council's Health Overview and Scrutiny Committee.
'Intolerable circumstances'
He said less money led to the risk of increased waiting times for services such as accident and emergency, and was putting additional pressures on his staff.
Mr Crowley said: "We have real issues in terms of delivering safe and effective care on the ground.
"We have got armies of staff working within the health service increasingly in intolerable circumstances for an increasingly infirm population."
The Labour MP for York Central, Hugh Bayley, and the Conservative MP for York Outer, Julian Sturdy said they would press for a Parliamentary debate on how they claim the county "loses out" due to the national funding formula.