Ripley inflatable slide incident investigated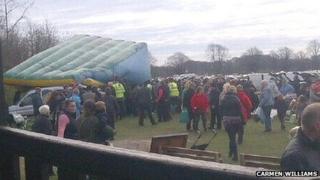 An inflatable slide which blew over at a car boot sale, leaving five people injured, is being investigated.
The bouncy castle-style slide overturned at Ripley Cricket Club, near Harrogate, on Sunday.
The five people were treated for minor injuries at hospitals in Harrogate and Leeds. One person was kept in hospital overnight for observation, police said.
The Health and Safety Executive said it had begun a "preliminary" inquiry into what had happened.
The incident occurred just after 10:00 BST on Sunday.
Michelle Hardacre, from Harrogate, was at the car boot sale and said the wind had been building up throughout the morning.
"There was just suddenly a massive gust of wind. It was very loud and then within seconds it had gone from calm to literally crockery and goodness knows what flying around," she said.
She said it was moments later that she learned the slide had been blown over and people had been injured.
"Then there were suddenly police vehicles and quite a few ambulances arriving on the scene."